If you're looking for Rieju moped or motorcycle insurance that doesn't costa plenty call MCE Insurance on 0844 338 68 88 QUOTE REF 1924 or click on image below for online quote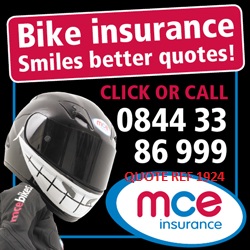 Great Insurance cover at best prices for all models:
Rs1 50 Rs2 50 Rs3 50 RR 50 RRX 50 SMX 50 MRX 50 MRT 50 MRX 125 SMX 125 RS3 125 MRT125 Marathon 125 Marathon 250 Marathon 450 MRT 200LC MRT200 LC and pro comp models, fast insurance same day cover call now and dont forget to quote 1924 when calling to get the best deal!
How does MCE Insurance get the best deals on your Rieju moped insurance?
Simple. At MCE Insurance, we compare insurance prices from more than a dozen leading companies to find you the cheapest quote for your Rieju moped insurance. What's more, our highly trained specialists sift through more than 30 prices to make sure you never pay a penny more than you have to. Finally, because MCE Insurance only works with the UK's leading Rieju moped insurance companies, we can protect your no claims bonus for a small premium in the event of a theft or accident. Nice.
The MCE Insurance Service Promise - looking after you and your Rieju moped
MCE Insurance provides industry leading service, whether you're signing up with us, renewing your Rieju moped insurance or making a claim. We save you time by keeping paperwork to a minimum and answering your calls quickly from our UK call centre. Most importantly, we are available 24 hours a day, 365 days a year if you ever need to make a claim or use our breakdown service, which comes as standard with all our Rieju moped insurance. If you have an accident or your Rieju moped is damaged or stolen, call us as soon as possible on 0871 222 79 10 and we will respond immediately. Or Click image below